Lockdown is in full force and many of us are wondering what to do with our time. Fortunately, a Florida based tech start-up 'Hybri' may be the solution to the problem.
What is Hybri?
Hybri is a new AR/VR app that allows users to create their very own custom 3D AI-driven virtual partners. The app comes with 6 models (3 women and 3 men) that have been created using motion capture technology.
Users can customize each model to their personal preference including their hairstyle and color, the body size and shape, and even the clothing and sound of the model's voices.
As it stands there are 52 erotic animations to choose from and thanks to the built-in voice recognition and hand gesture technologies, users can even talk to and interact with their AI-driven hologram. In turn, this eliminates the need for any additional expensive hardware while making the experience more realistic and immersive in the process.
The app also comes built-in with custom personalities, similar to the features offered by 3D Holo Girlfriend. Users can choose between sexy, funny, violent, playful, smart, and caring. If you decide that one personality isn't quite right for you, then you can just go back to the initial set up process and select a different one and the model's attitude will respond accordingly.
Hybri says:
depending on your model's configuration, they will miss you or argue with you. You can chat with them all day or even give them orders; the choice is yours.
While this may be impressive, the company's ambitious project doesn't end there. Hybri claims that users will be able to change the models face to anybody they wish using just a simple image from their gallery.
This works using a photoscan function technology which allows for a standard 2D front view portrait to be turned into a realistic 3D avatar. All you have to do is customize the hair and body shape and you're all set with your perfect partner. Have you ever wanted to spend some alone time with a hot celebrity? The Hybri app may be able to offer this and more.
What Devices Is Hybri Available On And Where Can I Try It?
The company states that its main priority has been to make Hybri available to everybody. This means, for now, the app is built for Android and IOS smartphone devices. The company is developing their own brand mixed reality headset so its likely that the app will be featured on it and perhaps other XR headsets in the future.
Users also have the option of popping their phone inside a standard VR headset or Google Cardboard and trying it out in virtual reality. This presents 40 different VR environments including 'romantic places' and a 'futuristic room'.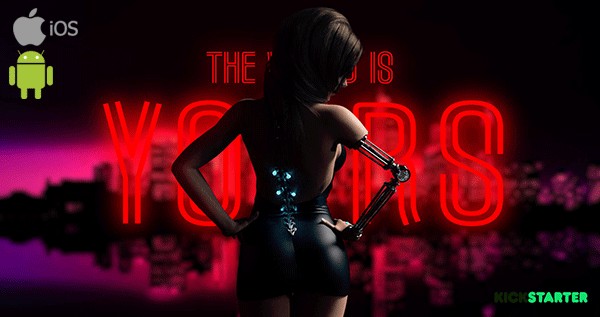 For those wanting to try the app, unfortunately, it is not yet available but the company looks to launch the project on Kickstarter soon. Once it goes live you can pledge 49$ and download the app.  Alternatively, pledge $99 for the Hybri AR T-shirt, $199 for the Hybri headset, or $5000 and they will create your own personalised model.