Holokatsu is an AR anime game developed for Hololens 2 that allows you to 'feel' your waifu using bHaptics TactGloves.
The game features a dozen characters that you can interact with in your physical environment.
Gameplay
Holokatsu is an AR port of the Japenese game Koikatsu. This means all animations and interactions from Koikatsu have been implemented in Holokatsu.
This includes the characters giving blowjobs, fingering themselves, bending over, or just simply walking around. You can also have your waifu follow you around.
A cool feature in the app is that the characters are touch sensitive. The main touch zones are the mouth (kissing), breasts, vagina, anal, and buttcheeks.
You can play with any of these body parts and the physics will cause them to move. She will also squirm and moan as you touch her.
The game also includes a virtual dildo you can use to interact with the characters.
To enhance this experience further, we recommend using bHaptics TactGloves. This will allow you to 'feel' your waifu when you touch her.
The gloves feature 12 Haptic Feedback Points (5 on each fingertip and 1 on each wrist) which deliver delicate and sophisticated haptic feedback to your hands when you physically interact with your waifu.
This means you can slap her ass, play with her tits, rub her pussy, and the haptic motors will send a vibration to your fingertips which makes you feel like you're touching her.
You can also change the Horniness level of the character. Each level gives the character different voice lines.
The voices are in Japanese, but it does have subtitles so you can easily understand what she's saying.
Some of the dialogue you will find in the game includes things like, "I can feel your gaze wrapping around me", and "My beauty, it truly is the peak of cruelty, is it not?".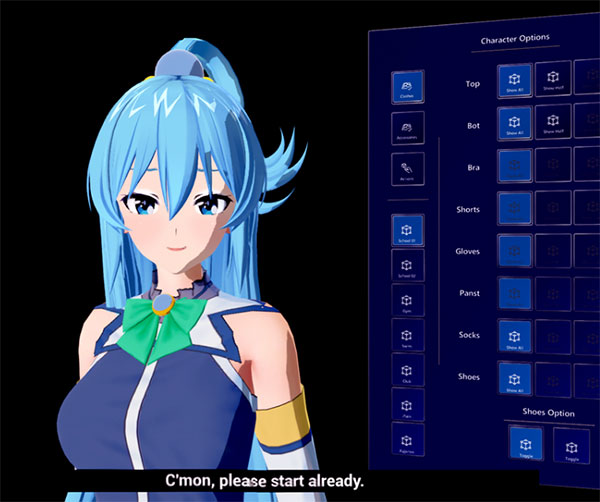 The app comes with built-in personality modules. Each character has its own personality which you can easily change by downloading a new one.
I have provided a link at the bottom of the page on how to do this.
Setting preset points
Something I love about Holokatsu is the ability to set preset points around your home.
This means you're not limited to positioning your waifu in one place, then having to move her when you want to position her somewhere else. You can set markers around your house where she can walk to.
Additionally, you can set these markers with custom presets.
For example, you can set one on your living room sofa, one in your kitchen, and another one in the bathroom. Then you can set these preset points with actions.
In the living room, you can set the action to be that the waifu sits down. In the kitchen, you can set it so she leans against the wall. Then in the bathroom, you can set it so she takes a shower.
There are 9 different actions you can apply to each individual marker and your waifu will walk to each one and perform the action you've chosen.
You can also get your waifu to perform a choice of erotic animations once she's there such as giving a sitting tit job, getting in the doggy position, or giving a nipple-sucking handjob.
Overlaying your waifu onto a sex doll
If you've ever dreamt about having sex with a waifu then the Holokatsu app is here to help make those dreams come true.
This will require a sex doll to achieve this, but there is a feature in the app that allows you to move the character around and also to move the limbs (hands and feet).
Using this feature, you can technically overlay your augmented reality waifu onto a sex doll.
While I personally have not tried this, the creator tells me that he enjoys this on a regular basis and describes it as a "mind-blowing experience".
He recommends using a pillow sex doll with an onahole and paizuri tits.
His plan in the future is to use the slime VR trackers to track the user's body movement, which in turn will make things even more interactive.
He states that once the trackers are working on the user, maybe they can be placed on the doll too to allow for more dynamic movement.
Future Devices
Arguably, Hololens 2 is the best AR headset on the market today, but at a starting price of $3500, it's out of reach for the average consumer.
And as good as the Hololens 2 is, the 52-degree FOV doesn't really cut it for experiences like Holokatsu.
To combat this, the creator plans to add support for the Lynx R1 headset which has a starting price of $849 and a 90-degree FOV. He also plans to add support for Quest 3 when it's released in October.
How to play Holokatsu
1 – Download the free app on Patreon
2 – Install the Holographic Remoting Player on the HoloLens 2.
3 – Change the IP in the .bat file to match the IP shown.
Details about how to choose your waifu's personality can be found here