Before the weekend kicked off, we asked our much-loved Twitter fans which pornstars they most want to see featured in augmented reality porn. It didn't take long before the comments started coming in. And after checking out the votes, we decided to share the results!
Riley Reid
Really, where would porn be without the infamous Riley Reid? We were expecting to see her name hit the comments box. And lo and behold, her name was the first to appear!
Riley Reid, the wild, free-spirited sex-icon with the trademark Chinese symbols tattoo running along her spine is one of the top-rated pornstars in the industry. She has that alluring kinky look that will make your cum tank explode like the climax of firework night, and that's before she's even given you an eye full of her gorgeous tight ass and irresistible teen body.
Since making her debut into adult film in 2011 at the age of 19, she has quickly risen to become one of the worlds most loved adult stars in both standard 2D porn as well as virtual reality porn.
Her seductive charm, inescapable eroticism, and kinky, wild lustfulness are what she's become so well known for and are just some of the reasons why she's adored by such an extensive number of devoted fans.
The girl is so hot and talented that on Pornhub alone, she has racked up 997 million video views from hungry fans drooling over her addictive performances. That's one hell of a lot of cumshots!
She also recently received the number 1 spot in Pornhubs top 10 most popular pornstars, as well as the number 3 spot in the worlds most searched pornstars, falling closely behind second-place Lana Rhoades, and first place stormy Danials.
Riley Reid is easily one of the most notable and recognizable pornstars in the game. For this reason, we would be nothing short of utterly shocked if we don't see Riley make her debut into the AR porn industry.
Good news is, I could pretty much bet my life that she will be at some point in the future.
Let's hope sooner rather than later!
Check out Riley Reid's Twitter handle.
Abella Danger
Since joining the adult industry in 2014, Abella Danger boomed from the get-go and just keeps getting more popular. It comes at no shock to see that she got the one up by a fan wanting to see her in augmented reality porn.
She was easily one of the hottest newcomers in the adult biz and has since gone on to star in countless scenes.
To put it simply, the girl loves sex. She'll gladly have a fat cock stretch her ass wide open before she drains the balls with the back of her throat and drinks every last drop of cum.
Abella is well known for doing it all and never passing up on some erotic XXX action. She can often be found sucking the pussies of a duo of hot sluts in a raunchy lesbian threesome or being tied up and pounded in some hardcore bondage scenes.
You name it, she does it and she always comes back for more.
For this reason, we're pretty much certain she'll begin making her introduction into AR porn once the technology advances.
The audience can't get enough of her, the adult film company's want her, and for Abella, it's just yet another situation for her to get out her tasty snatch and show off her undeniable talents, something she loves to do more than anything else in the world.
One of the things that'll make Abella Danger such a welcomed addition to AR are those titties! A perfect rack of natural 34C jugs that bounce up and down quicker than the stock market.
Not forgetting that irresistible ass that will fit nicely in a POV setting on top of your cock, or teasing in a kinky AR striptease from across the room.
Oh, and while we're here, I just want to big up Abella's ex-boyfriend who originally got her making sex videos with him. Word on the street is that it's because of this she ended up getting into professional porn shoots. She ended up ditching the loser to go and make it on her own, but still, gotta give the loser a thumbs up for bringing Abella to our screens!
Check out Abella Danger's Twitter handle.
Dillion Harper
What a solid  addition Dillion Harper would make to the exciting world of AR porn. Cute, adorable, petite, sexy and with pretty much perfect and completely real big bouncy 32D melons.
The very sexy Dillion was picked by 1 of our Twitter fans as the pornstar they would most love to see in augmented reality. And it wouldn't come at any surprise if she was plucked out by some top adult AR developers to star in a few scenes or have a virtual hologram created of her.
She's pretty much done it all. Firstly, with live camming, then moving over to porn videos and then featuring in VR, so it's only a natural progression that she begins starring in augmented reality porn as well.
And In reality, the porn producers have got to give the fans what they want, and Dillion Harper is very much what the fans want.
In fact, rumors say that the only reason she moved away from being a cam model on MyFreeCams.com is because her eager viewers would constantly hound her about how she's way too hot to be stuck behind a webcam dildoing herself for some extra money, and she should get in to the porn business because she'll be so good at it and the world would love her.
Fast forward seven years and what do you know, they were right!
The adorable brunette has been featuring in movies for some of the biggest adult producers in the business such as BangBros, Brazzers and Mofos and the horny male-species can't get enough of her.
It's still a mystery how her huge 32D tits remain so perfect and upright without being stuffed with silicon. And that's one of the things people love so much about her. Matched with her big cute smile, small tight body, and an upbeat personality, she really is the perfect girl to bust a nut over.
The day she is introduced into AR Pornography will be a very exciting day for many augmented reality enthusiasts and Dillion Harper fans everywhere.
Check out Dillion Harper's Twitter handle.
Whitney Wright
She may have had the shortest career in the adult biz from the pornstars in our list, having only been around since 2016, but the horny slut has definitely done a good job in marking her territory.
Whitney Wright has risen to fame in the last 3 years by offering so much variety in her scenes. She is particularly popular for shooting family-themed scenes such as being the horny step-sister that wants her step-brother's cock, or playing the role of slutty step-daughter.
Probably her most loved scene is "Step Sisters Agree to Share Step Daddy's Cum", which has tens of millions of views and growing.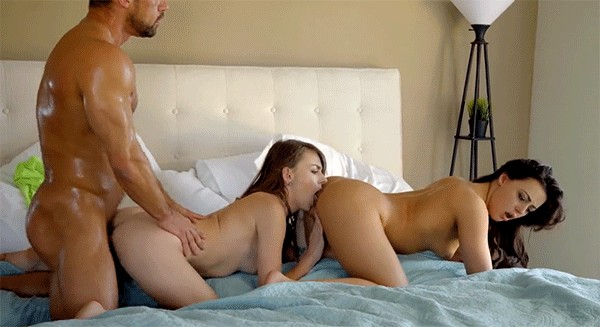 In her short career, Whitney's starred in at least 200 scenes and nothing about this girl is vanilla.
She'll happily take the meat of multiple men in a hardcore gangbang and soak up the creampie of every single one of them. And when she's not getting all three of her fuck holes stretched like a led balloon, she'll be eating the cum of one of her horny girl friends.
I hope we see her hop on the AR porn train somewhere down the line. She's always a pleasure to watch and would be even better as a life-sized 3D hologram.
Just imagine seeing Whitney pleasuring herself on your bed with a baseball bat sized dildo while she screams like a wild bobcat during mating season.
Hell yeah!
Check out Whitney Wright's Twitter handle.
Katy Rose
It doesn't surprise me at all to see Katy Rose get a vote for the most wanted pornstar to feature in some AR porn. The chick is sexier than a metallic black Bugatti roaring beneath the lights of a brightly lit city at night and then some.
The very sight of those tight natural 32B teen tits is enough to make you cum your pants before you even have time to reach for the Kleenex.
Just imagine a life-sized holographic version of them bouncing in front of your very eyes while you slam her sweet Czech pussy?
Yes please!
To date, Katy Rose has starred in at least 200 porn videos since making her debut into adult film in 2014.
She is well known for offering her adoring fans a wide-variety of different scenes to indulge over. Lesbian, teen, solo, threesomes; the horny babe really does do it all and isn't shy to a bit of anal either.
Arguably, her best scene is "Two Hot Girls Get Stuck Under a Bunkbed", which alone has racked up tens of millions of views.
Katy isn't a stranger to virtual reality either. So far, she's starred in around 40 movies from the likes of CzechVR, SexbabesVR, 18VR, VRBangers and more. Making such a frequent appearance in VR offers a lot of hope that we will see her make a debut in to augmented reality at some point. Watch this space!
Check out Katy Rose's Twitter handle.
Briana Banks
Where to start with Briana Banks. MILF, blonde, big boobs. Tick, tick, tick!
Briana is easily the longest-serving pornstar in this list whose hot endeavors can be traced as far back as 1999, way before the generation of free tube sites, hot cam girls and the online porn we've come to know and love today.
One of the cool things about Brianna is she's starred in movies with the legendary Jenna Jameson. Not many pornstars in the game today can say they've done that!
The blonde German bombshell has also starred in a handful of VR scenes such as "You Can Banks on it", "Pardon my French" and "Banging The Daughter, Seducing The Mother".
Will we see Briana Banks in AR porn? Maybe we will in the future, but it's likely that she won't be first in line from this list.
Check out Briana Banks Twitter handle.
What do you think? Are there any pornstars you want to see in AR? Feel free to join the discussion and cast your vote!