Indie mobile game developer, Dragon972, has released a video and download link for a new AR porn game.
The app, named Augmented Reality Trials, is available for android devices and offers users the chance to experience AR sex with a variety of popular gaming characters. '2B' from video game Nier Automata" and 'Sherry Birkin' from Resident Evil 6 are both available with word that there will be more to come soon.
Where Can I Download Augmented Reality Trials?
The Demo link is available here. Please note that the demo does not include 2B.
For the full game download, head over to Dragon972's Patreon page. There, you can support his work and unlock the games full features.
Note that this application has been made with vuforia unity plugin so not all mobiles are compatible.
How to Play
Once the app loads, aim the white middle empty square on your phone on a floor surface.
Next, touch your screen where you want the girl appear.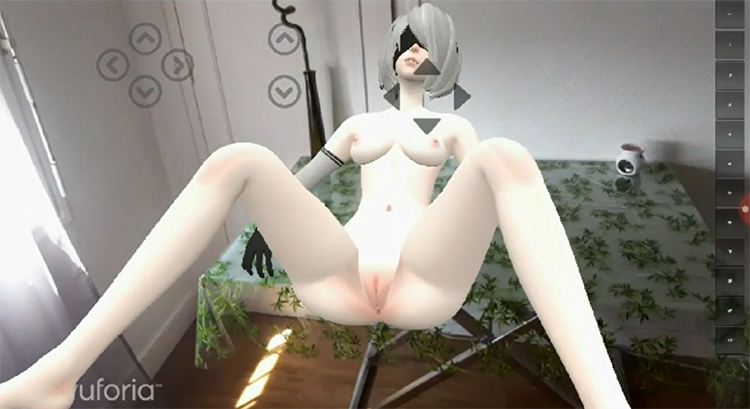 Reposition the model – Use the on screen buttons
Change the models pose – Use 1, 2, 3 .. buttons.
Reset the scene / pose – Use the T button.
Scale the model – Use the 2 directional z axis onscreen buttons. Then touch your screen to retarget the models position.
Take a screenshot – Use shortcut key. On Samsung smartphones, press "home button"&"side on off button " at the same time).
Who is Dragon972?
Dragon972 is the creator of popular title XXX Simulator VR. In 2017, he created and began sharing videos on virtual reality porn tube sites of Hentai videos under the name Spacebear7778. Soon after, Spacebear7778 released his first VR porn game to the public, XXX Simulator VR Beta 1.0.
The game was a success in the VR community which led to a variety of new scenes, characters and updates being developed. It will be interesting to see how Dragon972 / Spacebear7778 makes his mark in the AR porn space. The creators latest video already shows massive improvement. Definitely one to watch out for!