The chances are you've come across the terms artificial intelligence (AI) and machine learning at some point in recent years. If you haven't, you've defiantly been using it. Examples of artificial intelligence can be found in products and software developed by Apple, Microsoft and Google such as Siri, Cortana and Google Home.
There are talks everywhere about how AI is going to change the world. From healthcare, to business, to our general day to day living. Strangely, very little has been mentioned when it comes to just how much artificial intelligence is going to transform adult entertainment. The adoption of artificial intelligence in to both VR and AR porn is going to change the game like we could never imagined a decade ago. How exactly is AI going to change porn? First, let's establish what AI is.
Artificial Intelligence Definition 
So, what is artificial intelligence? The dictionary defines AI as "The theory and development of computer systems able to perform tasks normally requiring human intelligence, such as visual perception, speech recognition, decision-making, and translation between languages."
Essentially, AI is about creating systems that have the ability to think like humans. What's more, scientists aim to develop emotional characteristics that can be incorporated in to machines and software. Tech and Artificial intelligence companies are investing heavily in AI. Samsung, for example, have plans to invest over 20 billion dollars in to the technology for their future products and software. So, the question remains. How will AI be used in adult entertainment? And what are the benefits and advantages of artificial intelligence being used in XR porn? Let's take a look.
AI Will Offer Personal Interaction 
Take a look at cam girls for example. Think about it, why are we happy to pay up to 6$ a minute or more when we can just watch a free porn video? One of the reasons is because they offer a certain level of interaction and personalisation that can't be found in a standard movie. You talk, she responds. You tell her what to do and she does it. Even if you're one of them bellends just looking for a chat with a hot chick, it's there.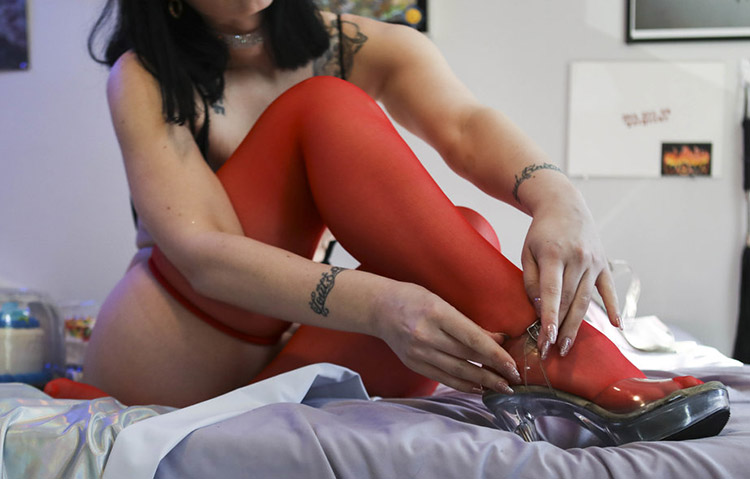 This is why incorporating AI technology in to porn is going to be a match made in heaven. It offers that personalised experience that we desire without the exuberant costs of paying for a cam session. Let's give an example.
The Scenario: 
You're enjoying virtual or augmented reality sex with your favourite digitally created pornstar. But you know it can be better with a little bit of dirty talk. She knows what you like to hear. She knows your favourite positions and will always make sure she satisfies your desires. You just tell her what to do and she complies. She learns from you and overtime, become your loyal virtual companion that you can have intelligent conversations with. You'll enjoy sexual fantasies personally catered to your needs, wants and desires.
Sounds crazy, right? 
The process of adopting AI in to adult entertainment has already begun. Take Deepfakes for example.  Deepfakes was one of the first examples of AI tech being used in porn. In September 2017, the group begun submitting some controversial videos of celebs faces being manipulated on to the bodies of adult stars. The creators done this simply with a bunch of photos of their target and an algorithm using artificial intelligence.  The results were pretty damn convincing and many celebrities became targets such as Taylor Swift, Jennifer Lawrence, Ariana Grande, Emma Watson, Mila Kunis and many others all became stars of their very first porn videos.
However, this is only the beginning of AI technology being used in porn. Take a look at 3DHologirlfriend, one of the first AR porn start-ups offering the augmented reality girlfriend experience. The company have previously announced their long-term plans to build AI software. They plan to make the girls more interactive in both sexual and non-sexual ways by using artificial intelligence.
Visual effects artists and virtual reality porn start-up Camasutra are another adult company that revealed their plan to create full augmented reality "real" girlfriend and boyfriend experiences driven by AI technology. Co-founder Adam Sutra states their avatars will be owned, taught and operated by the real owners and learn from their interactions.
Porn has consistently been at the cutting edge of technology with VR and AR porn being the perfect examples. Is it any surprise that the industry is going to swoop down like a pack of vultures and take hold with their mighty claws?
It will be some time before AI really becomes a successful aspect of porn. However, it's certainly something we can look forward to in the future.